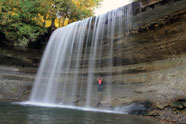 *english version below*
Meiner Meinung nach "erfährt" man Kanada am besten mit einem Wohnmobil. Man ist flexibel, unabhängig und hat sein Hab und Gut dabei, ohne täglich ein- und ausräumen zu müssen. Daher holen wir auch für die Lausitzer einen Camper, um ihnen in den nächsten 2 Wochen unseren "Lifestyle" näher zu bringen.
Reiner, Stephanies Stiefvater, hatte uns schon vor einigen Wochen eine Liste mit Wunschzielen zukommen lassen und so startet unserer Minikonvoi Anfang Oktober der ersten großen Attraktion, den Niagarafällen, entgegen.
Die Wasserfälle sind toll anzuschauen aber die Menschenmassen törnen mich persönlich extrem ab und so kann ich es nicht erwarten wieder in den wilderen Teilens Ontarios zu verschwinden. Auch Reiner ist der Rummel zu viel, zumal er mit Marina nach Ostkanada gekommen ist, um die Laubfärbung zu bewundern und nicht die Farbenpracht der Goretex Jacken.
Zugegeben, ohne unseren Besuch hätten wir einige der Ziele, die wir in den 14 Tagen ansteuerten möglicherweise ausgelassen. Algonquin Nationalpark, Manitoulin Island oder auch der Fjord von Saguenay sind aber zurecht große Highlights in den Reiseführern.
Au?erdem habe ich in Reiner einen wanderbegeisterten Reisepartner der sich auch vor zweistelligen Kilometerangaben nicht scheut. Das durchweg großartige Oktoberwetter und die geselligen Abende in unseren Camps tun ihr übriges, um die 14 Tage mit unserem Familienbesuch in vollen Zügen zu genießen.
Holidays within the holiday
In my opinion the best way to explore Canada is by travelling vehicle. You are flexible, independent and have your belongings and equipment with you without packing in and out every day. So we got our Upper Lusatian visitors an RV for the next two weeks to show them a little of our way of life here in Canada.

Steph's stepfather Reiner made a nice little travel itineary, so we were good to start with our little travel party first for Niagara Falls. It's been great to see the masses of water rushing down these falls, but the masses of people I don't like at all. I cannot wait to head towards the remoter areas again. Also Reiner does not seem to enjoy the touristiy action there, especially for him and Marina came to see the autumn colours of Canada, not the colours of goretex jackets of tourists.
I have to confess, if it was just Steph and me we may have missed out on some of the destinations our visitors had worked out and put on their quiet tight to-do-list for the 14 days. But we found, Algonquin Park, Manitoulin Island and Saguenay are not just big highlights in the tourist guide books, they really deserve it. Then, in Reiner I found a hiking partner not afraid of two digit long distances. Plus the beautyful autumn weather and the joyful camps in the evenings made us really enjoy the family holiday.