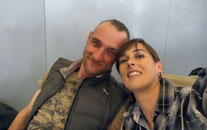 *english version below*
...ist nicht immer einfach. In unserem Fall fiel er dann aber nicht all zu schwer, auch wenn unsere Mütter und Väter das nicht gern hören ;-).
Nach 3 Jahren in Deutschland war es für uns endlich mal wieder an der Zeit das Weite zu suchen. Kanada schwirrte uns schon lange durch den Kopf. Es ist das einzige, uns bekannte Land in dem man Working Holiday bis zum 35 Lebensjahr machen kann. Also war es aller höchste Zeit da ich, Jahrgang 1981 und Steph Jahrgang 1980, schon zu den "Alten Säcken" unter den Workin Holiday Makern zählen...
Zugegeben, mir fiel es ein bisschen schwerer die Türen meiner Firma www.fernweh-reisemobile.com für ein Jahr zu schließen, aber ich wollte nie zu den Menschen zählen die irgendwann zurück blicken und zu sich selbst sagen: "...hättest du mal..."! Für Steph war es eine nicht ganz so schwere Entscheidung, da ihr Arbeitsvertrag eh im April endete und es nicht gewiss war ob dieser überhaupt verlängert werden kann.
Und so stehen wir nun in Prenzlau auf dem Bahnhof und blicken in aller Frühe der Bimmelbahnfahrt zum Flughafen und dem Flug nach Vancouver, Kanada, entgegen...
Stephs Eindrücke zur Reise gibt es HIER
Saying Good Bye
Saying good bye is not always easy, but in our case it was exciting, even if our parents are not really happy to hear that;-)
After 3 years in germany , it was time to let go again. Canada is in our mind for a while now and its the only country where u can get a working holiday visa up to an age of 35. So we are both right on the limit. Steph is born in 1980 and i am in 1981 so we are the oldest working holiday maker...
Well, for me it was a bit harder to lock the door of my company www.fernweh-reisemobile.com for a year. But we just have one live so i just did it and iam sure i will not regret. For steph it was a bit easier. Her working contract just finished end of april.
And so now we are waiting for the train in our hometown Prenzlau to take us to the airport... how exciting;-)
...find Steph impressions for our trip HERE